Former SMCC Pitcher Gets Call to the Big Leagues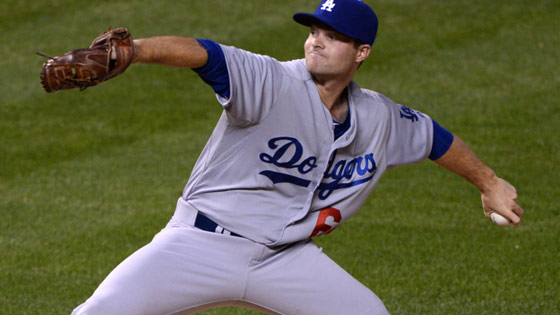 Former South Mountain community College left-handed pitcher Daniel Coulombe became the 4th Cougar to make his Major League Baseball debut on Tuesday night as a member of the Los Angeles Dodgers. He pitched a perfect inning in relief during the Dodgers 10-4 loss against the Colorado Rockies at Coors Field in Denver.
Coulombe, originally from Scottsdale, Arizona, pitched one season (2010) for the Cougars before transferring to Texas Tech University and becoming a Red Raider. On Tuesday, he received news he had been called up to the big leagues. He arrived in Denver and entered his MLB game in the seventh inning to pitch a three-up, three-down frame with a strikeout, lineout and fly out.
The Dodgers currently hold a two-game lead in the National League West Division with less than two weeks of the regular season remaining.
SMCC players that have made a major league debut:
Scott Lydy, SMCC (1989), May 18, 1993, Oakland Athletics
Cody Ransom, SMCC (1995-96), Sept. 5, 2001, San Francisco Giants
Chris Duffy, SMCC (2001), April 7, 2005, Pittsburgh Pirates
Daniel Coulombe, SMCC (2010), Sept. 16, 2014, Los Angeles Dodgers
South Mountain Community College offers transfer-ready academic courses and job-specific occupational training. The main campus is located on Baseline Rd. and 24th St. in Phoenix. There are two satellite campuses, SMCC's Guadalupe Center and SMCC's Laveen Center. South Mountain Community College is part of the Maricopa County Community College District, one of the largest community college districts in the nation.