SMCC Business Students Excel at International Conference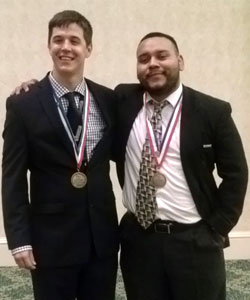 South Mountain Community College Collegiate DECA members competed in the International Career Development Conference (ICDC) in Orlando, Florida, April 18 through April 21 after qualifying at the Annual State DECA Career Development Conference. Students included John (Gus) Barnes, Juan Gonzalez, Bryan Florendo, Cassandra Votion and Georgina Mendoza. South Mountain Community College DECA came home with multiple medals, and received the Leadership Passport Executive Award. Gus Barnes received the Leadership and Academic Honors Award.
For the competitions, Bryan Florendo placed in the top 10 in Accounting. Juan Gonzalez placed in the top 10 in Human Resource Management. The team of Juan Gonzalez, Gus Barnes and a student from Estrella Mountain Community College placed in the top 10 for their work on an Entrepreneurship Case.
Six Arizona colleges and universities were represented at this conference. South Mountain Community College had the most top 10 finalists from all six Arizona schools.
DECA prepares emerging leaders and entrepreneurs in marketing, finance, hospitality and management in high schools and colleges around the globe. For more information about the South Mountain Community College chapter or to get involved, visit southmountaincc.edu.