Collegiate DECA's Competitive Events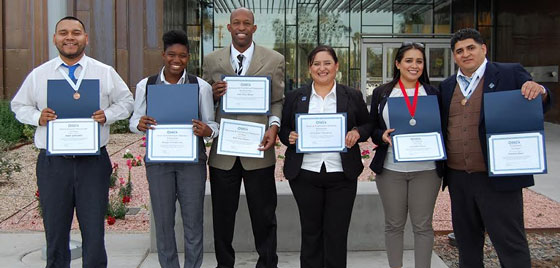 Collegiate DECA's Competitive Events Program allows students to put their experience, skills and knowledge to the test while representing their college or university. Students compete for top international honors in one of 24 different competitions. Collegiate DECA competitive events recognize student achievement, provide opportunities for traveling to conferences and networking with peers. The Collegiate DECA Competitive Events Program is recognized for helping to prepare students for their professional careers–in all events students are judged by business and industry professionals.
Saturday, February 21, SMCC Collegiate DECA sent ten students to the Annual State DECA Career Development Conference. Seven students competed in role plays and exams. Other schools represented include ASU, UofA, GCU, GCC, Estrella Mountain and Scottsdale Community College.
SMCC swept the Accounting competition. Bryan Florendo won best role play, best exam, and came in first overall.Cassandra Votion, placed second and Jonathan Raus placed third.
In other categories, John (Gus) Barnes won best role play in Restaurant Management placed third overall. Juan Gonzalezwon third place in Human Resource Management, and the team of Georgina Mendoza and Kaiya Henderson received a participation award for their work on a Sports & Entertainment Marketing case.
Five SMCC students qualified to attend the International Career Development Conference that will be held April 18 – 21 in Orlanda, Florida. To qualify they had to place and receive a score of 70 or higher. The students that qualified include: Bryan Florendo, John (Gus) Barnes, Juan Gonzalez, Georgina Mendoza and Kaiya Henderson.
Congratulations to all!