Hope College Information Session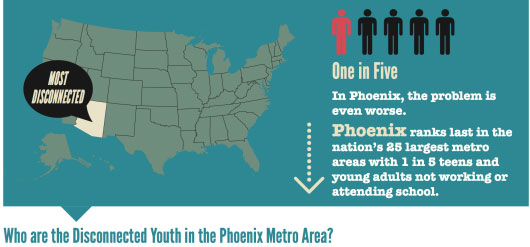 Serving the Disconnected Youth In South Phoenix
South Mountain Community College (SMCC), a Maricopa County Community College, and the Maricopa County Regional School District (MCRSD) are working together to find a solution that will re-connect the youth in South Phoenix.
MCRSD is proposing to develop a high school campus – Hope College and Career Readiness Academy – focused on re-connecting these young adults. This Academy will provide disconnected youth in South Phoenix with an opportunity to return to school and receive specialized training while obtaining their high school diplomas.
Research indicates that traditional educational routes are not working for these young adults. Working together, we can prepare all teens and young adults with the skills they need to be productive, fulfilled citizens and community members.
Hope College and Career Readiness Academy Information Session:
Wednesday, June 10
6-7 P.M. | Free and open to the public
South Mountain Community Library Community Room
Learn more about the academy and programs it will offer
How we can decrease the disparity in education outcomes in Phoenix neighborhoods by joining forces
Enhance the local economy by developing positive community members
Alleviate taxpayer burden by reducing unemployment, and produce engaged workers looking for long-term employment opportunities.