U.S. Attorney's Office Selects South Mountain Community College Student for Internship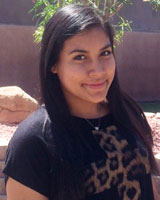 South Mountain Community College (SMCC) Student Maribel Paz has been selected for an internship with the U.S. Attorney's Office. Maribel is in her second semester at SMCC pursuing a degree in Criminal Justice. Maribel's career goals include becoming a police officer, detective, and, eventually an attorney.
The position with the U.S. Attorney's Office will include administrative work, conducting research on criminal cases and participating in courtroom hearings. "I discovered my passion for criminal law and the justice system in high school when I participated in the Teen Court program," said Maribel. "This is the perfect internship for my career goals." Maribel even inspired her math teacher to pursue a career in law, and he is now a student in the law program at Columbia University.
Maribel credits her experience at SMCC as a work-study student and the resources available in the career services center that prepared her for the five-panel interview and qualifications required for the internship.
"I cannot wait to start learning more about my future career and putting my education into practice," stated Maribel.